Dealing with a Scare…and Being Ready For the Worst
Seniors Tip: Travel Tips for Family Caregivers
Joke or Quote of the Month:The Arena
Heart Healthy Recipe:Creamy Broccoli Soup
Did You Know? Food Faux Pas That Keep the Pounds On

Dealing with a Scare…and Being Ready For the Worst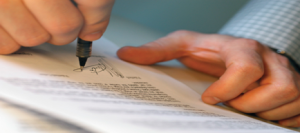 How do you spell 'Benign'? R. E. L. I. E. F. – that's how. Just six letters, but they cannot begin to express the thoughts and emotions that were racing through my head in the six weeks or so between asking my doctor the question "What is it?" and the specialist stating "It's benign."
I thought I would share with you what the scare did for me. In my case, the news was good – it was not skin cancer. But for many of you, I know it wasn't good news – or it won't be.
I had suffered a severe sun-burn to my back as a child, so I would have my back checked frequently for misshaped or raised moles and other odd blemishes. Touch wood, so far, so good.
I did have a scare a few years ago, when I developed two crusty growths, one on my left calf, and the other on my right arm. The doctor took one look at them and announced "Seborrheic keratosis. Scrape them off with your fingernail." So I did. To my relief, it was just dead skin! Much to my kids' amusement, they're known as the 'barnacles of old age'. Back then, I didn't even stop to think that it could have been cancer. But this time 'The Big C' did cross my mind.  That's because I had developed over the previous year first one, then, two, three and four tiny spots on my face. I thought I had seen these before – they looked a bit like ringworm (which is caused by a fungus, not a worm). Except that these spots would occasionally bleed, scab over and then mend, only to repeat the cycle a month later. Time for a check up.
I wish I'd asked my doctor straight out "Is it cancer?" but I didn't. Instead, I asked "What is it?" And his answer, "I don't know, I'll send you to a specialist," had me worrying and waiting for the worst.
Lesson #1: there are no stupid questions. I should have asked my doctor.
The day came for me to see the specialist. I was nervous but felt prepared. And then, all matter-of-factly, she dropped the B-word. It wasn't cancer, it was a benign growth (an angio-fibroma), and she would remove them all next week.  Waves of relief washed over me, tension abated, muscles relaxed a little. All that worrying, and planning, for nothing. But was it for nothing? Indeed, no.
Lesson #2: organize your affairs. I'm sure I would have felt differently had the diagnosis not been benign. For me, the wait was the worst, because I had to plan – just in case.
I thought I had all my affairs in order, but it was readily apparent that I was not as organized as I thought. The incident caused me to focus on my intentions, my wishes and my wants – but especially, on my family.
And that was Lesson #3: I took from this episode – that planning for your future is best done when you're not under enormous stress.
Article by Alex Handyside, CPCA, www.scotiacare.com
Heart Healthy Recipe: Creamy Broccoli Soup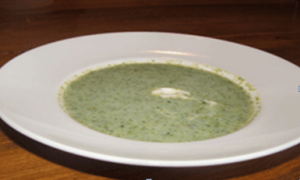 Makes 4 servings-Broccoli adds fibre and vitamins, and the milk offers much-needed calcium. This recipe is quick to make.
Ingredients
1 tsp (5 mL) olive oil
1 cup (250 mL) diced onion
1 cup (250 mL) diced celery
1 cup (250 mL) diced and peeled potato
6 cups (1.5 L) chopped broccoli (about 1 head)
2 cups (500 mL) sodium-reduced chicken stock
½ tsp (2 mL) black pepper
1 tsp (5 mL) dried dill
1 ½ cup (375 mL) skim milk
Directions
In a large pot heat the oil over medium heat. Add the onions and celery and cook until soft, about 5 minutes.
Add the potatoes, broccoli, chicken stock, pepper and dill. Bring to a boil. Cover and reduce to medium and cook for 15 minutes or until the potatoes are soft.
Add the skim milk. Purée using a hand blender or in batches using a food processor. Return to the pot and heat over low heat until hot but not boiling. Serve.
Nutritional Information Per Serving (1 ¼ cup / 300 mL)-Calories: 166, Protein: 13 g, Total fat: 2 g, Saturated fat: 0 g, Dietary cholesterol: 2 mg, Carbohydrate: 28g, Dietary fibre: 8 g, Sodium: 312 mg, Potassium: 1,190 mg
Recipe Developed by Nadine Day, RD. Reprinted with Permission from ©The Heart and Stroke Foundation.
Seniors Tip: Travel Tips for Family Caregivers

Travelling with someone who has a disability or illness can seem overwhelming; however, it can be possible with good advanced planning.
Here are some tips to consider:
A good place to start is a visit to the care recipient's doctor for a check-up and clearance for travel. The doctor may be able to identify any challenges they foresee with travelling and/or your destination, as well as recommendations to ease the process.
Ensure you have an up-to-date copy of the care recipient's medications, insurance records and medical record, in case they need treatment when away. Include contact information for their doctor, pharmacist and any other medical professional involved in their treatment.
Carry medications with you in case your luggage is lost en route and make sure you have enough medication for your trip as well as a few extra days, in case your return is delayed or you wish to stay longer. Make a list of daily tasks related to diet, personal care and mobility, so you remember to take along all needed items. Start this list a couple weeks in advance as it can be easy to forget the little things you use daily.
If you're travelling to an unfamiliar destination, locate hospitals and care centres ahead of time. If travelling by air, check with the airlines for special seating, wheelchair accessibility and medical equipment arrangements. Also, once at your destination, amusement parks, museums and other attractions often have wheelchairs available for use.
Check with the transportation authority at your destination to find out what services they provide for people with special needs.
Will you need to access home support services at your destination? Your local home support agency may have a branch at that locale. Otherwise, you can check online or contact hospitals or health units in the area for suggestions.
Ensure you plan for rest and recovery periods throughout the day, especially on travel days, so you have sufficient time to maneuver airports or train stations.
For someone who is at risk of wandering, put a card with their name and the name, address and telephone number of where you are staying in their pocket.
Article by Family Caregivers' Network Society, Reprinted with Permission from Senior Living Magazine, www.seniorlivingmag.com
Did you know? Food Faux Pas That Keep the Pounds On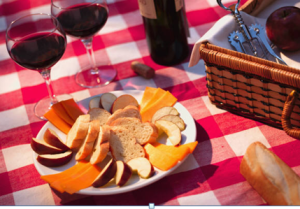 Eating unhealthy portions: Ten ounces of grilled salmon has the same number of calories as 10 ounces of sirloin steak. Keep the size down to three to six ounces.
Thinking fruits and vegetables are "free" foods: Many items from the produce section are high in sugar. Stick to leafy greens, zucchini, peppers and broccoli.
Going crazy with the condiments: Mayonnaise, peanut butter, maple syrup and barbecue sauce are all high in fats and/or sugar.
Sprucing up the salad: Adding nuts, cheese, avocado and dried cranberries can add a serious calorie boost to your well-intentioned meal.
Eating like an athlete: If you are not losing weight, you probably don't need to supplement your diet with protein shakes and bars.
Source: www.caregiversolutions.ca, Reprinted with Permission from Living Assistance Services, www.laservices.ca
Joke or Quote of the Month: The Arena
"It is not the critic who counts; not the man who points out how the strong man stumbles, or where the doer of deeds could have done them better. The credit belongs to the man who is actually in the arena, whose face is marred by dust and sweat and blood; who strives valiantly; who errs, who comes short again and again, because there is no effort without error and shortcoming; but who does actually strive to do the deeds; who knows great enthusiasms, the great devotions; who spends himself in a worthy cause; who at the best knows in the end the triumph of high achievement, and who at the worst, if he fails, at least fails while daring greatly, so that his place shall never be with those cold and timid souls who neither know victory nor defeat."
Theodore Roosevelt