Searching for the Golden Fleece
Seniors Tip: Spring Cleaning Tips
Joke or Quote of the Month:The Power of Love
Heart Healthy Recipe:Jerk Grilled Salmon
Did You Know? Mature Women Love to Travel

Searching for the Golden Fleece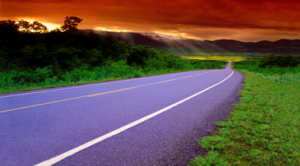 When we crest the hill of our sixties on this life journey, we might have to stop to ponder the view.  Usually it's an interesting one.  By now the road has climbed high enough that we can look back and appreciate the many twists and turns we navigated as well as the steep climbs and deep valleys that we survived.  It is, as the psychoanalyst, Carl Jung suggested, a hero's journey. While it is important to look ahead to the future while making the most of today, we can learn a lot by looking back now and then.  It isn't about nostalgia for the past or wishing to return so much as to gain perspective. The past can have an amazing clarity. Until now we have often been too busy watching our step to appreciate the big picture.  After all, keeping your nose to the grindstone and shoulder to the wheel is a sure way to miss a lot of the scenery.
Peering ahead, the path isn't so clear.  A lot of it continues to rise and be obscured in the mist of the unknown.  Some of the people we travelled with have been left behind or ended their journey.  The road gets a little less crowded and the pace a little more measured. We've fulfilled and shed many of our past roles and illusions: provider, parent, social striver, having lived so long through and for others or worrying about meeting someone else's expectations.  Suddenly we find ourselves in a vast strange land, without a map or signposts, frighteningly free to face ourselves and the meaning of our lives.
Like another hero, Jason, we could have spent our lives in search of the Golden Fleece only to die once we'd found it.  Instead we are like "Odysseus returned, filled with space and time." (Osip Mandelstam)When the warrior king Odysseus set out after victory in the Trojan War, he had a ship full of booty and a loyal crew and dreamed of returning to his kingdom in wealth and glory. Along the way they learned that Jason had passed their way years before with the Golden Fleece. Odysseus urged his men to stay focused on their goal. After many years and misadventures he came home as a beggar.  He had lost everything but wasn't impoverished.  Within himself he carried even greater treasures than he'd started out with and that were more urgently needed by his world: Wisdom, Courage and Authority.
While we were on our quest we became society's elders, teachers and keepers of life's secrets.  Yet we may doubt that despite our years of living in the world that we have any relevance let alone wisdom to offer.  We may feel lost and wounded but whom better to help those who are confused and hurting themselves? Our new quest is to discover how to trust what we know and share it with others.  We can never know how much our invisible power may encourage, guide and inspire others just because we are alive and open to the possibilities that a free and giving spirit can invite.
When we were young we wanted to change the world. Now we think we would be happy if we can make it matter that we were here.
Like Odysseus, we may not have found the Golden Fleece but we have certainly arrived at the Golden Age and it is time to claim our rightful place.  
Article by Alan Atkins, CPCA
Heart Healthy Recipe: Jerk Grilled Salmon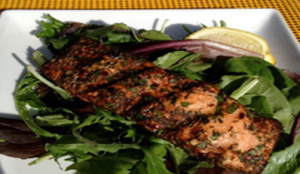 This combination of herbs and spice kicks up salmon for lunch or dinner. If you don't enjoy spicy food, reduce the hot pepper flakes to 1/4 tsp (1 mL) for a mild level. The jerk coating adds colour and contrast to the delicately moist salmon. Makes 2 servings.
Ingredients
2 salmon portions (about 4 oz/125 g each)
1 tsp (5 mL) canola oil
3 cups (750 mL) mixed spring greens
2 lemon wedges
Jerk seasoning mix:
1 tsp (5 mL) dried parsley leaves or 1 tbsp (15 mL) minced fresh parsley leaves
1 tsp (5 mL) dried thyme leaves
1/2 tsp (2 mL) each paprika and hot pepper flakes
1/4 tsp (1 mL) ground allspice
Directions
In a small bowl, combine parsley, thyme, paprika, hot pepper flakes and allspice; set aside.
Coat salmon portions with oil to coat and sprinkle with jerk seasoning mixture and turn to cover piece evenly.
Place salmon on preheated oiled grill over medium high heat, turning once for about 10 minutes or until fish flakes easily when tested. Remove from grill and place on top of greens and top with lemon wedge. Let guests squeeze lemon over top of salmon and greens before enjoying. Tip: Use the seasoning mix with chicken, pork or turkey if desired.
Nutritional Information per Serving-Calories: 261, Protein: 24 g, Total fat: 15 g, Saturated fat: 3 g, Cholesterol: 64 mg, Carbohydrates: 4 g, Fibre: 2 g, Sodium: 101 mg, Potassium: 717 mg. 
Recipe Developed by Emily Richards, PH Ec. Reprinted with Permission from ©Heart and Stroke Foundation.
Seniors Tip: Spring Cleaning Tips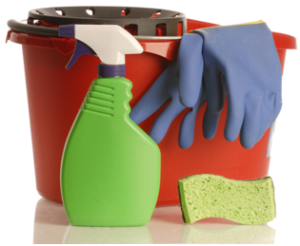 Work from the top down, and from inside to outside. 
Do one space at a time. The joy of seeing one room sparkle will make the hard work feel like it's worth it.
Dust before vacuuming or cleaning the floor. 
Clean under furniture and appliances. 
Go through items you no longer use and donate them to charity.
Source: Better Homes and Garden, Reprinted with Permission from Living Assistance Services, www.laservices.ca
Did you know? Mature Women Love to Travel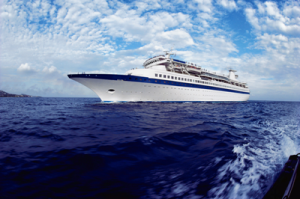 Mom's planning her next vacation. She's going to the Bahamas with her friends for a month – all women. She called me to let me know where her important documents are stored in the event of an emergency.
"Uh, okay, Mom. Thanks for calling, I love you and I guess I'll see you in a month," I said. She was so excited I couldn't get another word in edgewise.
Five of the ladies accompanying her are single – four divorcees and one widow.
The other three include my aunt, my niece, and my niece's best friend. And they are all leaving their husbands at home. None of their husbands had much say in the matter, nor did my mother's son.
My personal experience with mom reflects the fact that older women traveling in groups are a growing trend. They have more time to go where they want and more money to do what they want. Websites like www.ladiesonthego.ca based out of White Rock are popping up to serve them.
"Women who travel like the security of knowing there are other women traveling alone on the tour," says Sharleen Dickson, who spearheaded the Ladies on the Go ladies traveling club initiative. Their clubs motto is "Now it's your turn to have fun!"
When husbands do come along, it's almost always their wives who plan their travel itinerary.
A 2012 study of 2000 British couples revealed women researched the deals, booked the trip and guided the tour. Indeed, 43 percent of women had complete control of the passports whilst away, for fear their husband might lose them, and the majority of men confessed they were only allowed to drive and carry luggage! http://blog.holidaysafe.co.uk/2012/08/men-vs-women-who-plans-your-holidays.html
Whether it be women, men or couples, it is definitely elder travelers that have the most time and money to enjoy quality, luxury vacations. Mature travelers account for a startling 80 percent of all luxury travel, and they spend 74% more money and 40% more time on their vacation than their younger cohorts.
Being myself in the younger, working stiff cohort, watching my mom's frequent adventures gives me hope that I too will get to enjoy more travelling in the future… even if I only get to drive the car.
Article by Mathieu Powell, Reprinted with Permission by Senior Living magazine, www.seniorlivingmag.com
Joke or Quote of the Month: The Power of Love
"and the world we live in will be either better or worse, depending on whether we become better or worse. And that's where the power of love comes in. Because when we love, we always strive to become better than we are." 
Paulo Coelho, The Alchemist