The 'Mediterranean Diet'…its Benefits and its Bonuses
Seniors Tip: Consider These Tips Before Downsizing
Joke or Quote of the Month:Compassion
Heart Healthy Recipe:Eat Your Greens Frittata
Did You Know? Heart Healthy Through Fitness

The 'Mediterranean Diet'…its Benefits and its Bonuses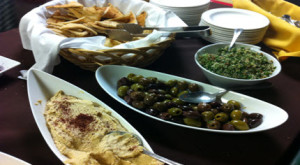 Evidence that the so-called Mediterranean Diet truly is good for us is growing. A recent study shows that seniors age 65 and older who used a lot of olive oil in cooking or as a dressing or dip had a massive 41% lower risk of stroke than those who never used it. That is a huge number that cannot be ignored. The researchers studied over 7500 seniors in three French cities, over five years. Lead author, Dr Cecilia Samieri, of the University of Bordeaux, said: "Stroke is so common in older people, and olive oil would be an inexpensive and easy way to help prevent it. A new set of dietary recommendations should be issued to prevent stroke in people 65 and older. However, a person's risk of stroke would only be reduced through consuming olive oil as an alternative to other cooking fats and as part of a healthy balanced diet that is low in saturated fat and salt."
The Mediterranean Diet does just that. It features the high consumption of olive oil, legumes, unrefined cereals, nuts, fruits, and vegetables. It also includes moderate to high consumption of fish, moderate consumption of dairy products (mostly as cheese and yogurt), moderate wine consumption, and low consumption of meat and meat products – particularly red meat.
Olive oil contains a very high level of 'good' mono-unsaturated fats, mostly oleic acid, which studies suggest are linked to a reduction in coronary heart disease. There is also evidence that the antioxidants in olive oil improve cholesterol regulation and LDL ('bad') cholesterol reduction. That it helps reduce stroke incidence is not big news, but that it reduces the risks by a huge 41% in seniors is excellent news. However, not all olive oil is created the same – some translation is needed. 'Cold press' means no heat was used to extract the oil, thus more nutrients are retained. 'Virgin' means it has only been mechanically pressed, whereas 'Refined' means chemicals and/or heat were involved to extract the oil – you don't need me to tell you which is best. 'Extra Virgin' has a much lower fatty acid content than 'Virgin' – 0.8% versus 2%, which is better for you. However, extra virgin is not recommended for high temperature cooking (eg. frying) as particles within the oil burn will at 410F/210C and the taste then deteriorates rapidly. For frying use sunflower, safflower or canola oil instead, or look out for a version of olive oil called 'Light Tasting'.
Olive oil takes a long time to go stale, but it does lose its freshness after a few months, so don't buy large quantities, and use the newer, fresher olive oil for salads, where you can – and want to – really taste the oil. We use lots of olive oil in our home. I love dunking crusty white sourdough or whole grain bread into a saucer of fresh extra virgin olive oil swirled with some good quality balsamic vinegar. It's divine! But hey, any diet that approves the moderate consumption of red wine gets my vote!
Learn more at www.bbc.co.uk/news/health-13782797 and www.ow.ly/trCR3
Article by Alex Handyside
Heart Healthy Recipe: Eat Your Greens Frittata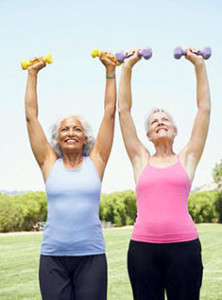 You can't go wrong with eggs at breakfast, lunch or dinner. For a flavor twist, use different peppers or other greens like arugula or kale.
Ingredients-1 container (5 oz/142 g) baby spinach, washed, 1 red bell pepper, diced, 3 cloves garlic, minced, 1/4 tsp (1 mL) hot pepper flakes, 2 tsp (10 mL) extra virgin olive oil, 5 eggs, 1/3 cup (75 mL) water or skim milk, 2 tbsp (25 mL) grated Parmesan cheese.
Directions-In an ovenproof 10 inch (25 cm) nonstick skillet, cook spinach with water that is still clinging to leaves, over medium heat stirring for about 2 minutes or until wilted. Add pepper, garlic and hot pepper flakes; stir to combine. Add oil and cook for 3 minutes or until softened. In a bowl, whisk together eggs, water and cheese. Pour into skillet, stirring to combine with spinach. Cook lifting edge with rubber spatula, letting runny egg go to the bottom. Let cook, until edge is starting to set. Place skillet about 4 inches (10 cm) under broiler for about 3 minutes or until top is set and light golden.
Nutritional Information Per Serving (One 2.5 in (5 cm) slice)-Calories 144, Protein 10 g, Total Fat 10 g, Saturated Fat 3 g, Trans Fat 0 g, Cholesterol 235 mg, Carbohydrates 4 g, Fibre 1 g, Sodium 150 mg, Potassium 298 mg.
Recipe developed by Emily Richards, P.H. EC. Reprinted with Permission from The Heart and Stroke Foundation.
Seniors Tip: Consider These Tips Before Downsizing
Downsizing or making a major move can be overwhelming. There is so much to think about:  the sale of your home, organizing finances, cleaning, sorting, packing and sometimes most importantly, choosing what to take with you. Despite everything that needs to be managed, the number one concern time and time again is, "what will happen to my things?"
Everyone tends to collect things over the course of their life. If you are moving from your home of 30 or 40+ years you will probably find that you have accumulated more than you ever imagined. Even if you know you don't need everything in your home, it can be difficult to part with things because they are attached to memories and emotions.
Here are some things to consider when moving into a smaller space:
Remember that you are moving because you have made a choice to improve your lifestyle. An overwhelming number of possessions can create a stressful living environment. Think of the energy required keeping everything clean and orderly, we may not be able to enjoy our memorabilia if it's lost in clutter or we may be neglecting other pursuits to take care of all our things.
Consider that we only use 20% of our possessions 80% of the time. Approach downsizing as a unique opportunity to assess what you truly love and need in your life. It is a chance to learn what you can live with and what you can live without.
Consider a test period. Choose a smaller space (like the main floor of your house) and spend time living with the smaller group of items you've chosen. This may help you to realize that you can enjoy living with a reduced number of possessions or help you better see what you do and don't want.
Think of more compact ways to take your memories with you. Create a photo album or scrapbook of your home rather than taking the actual things with you. Digital picture frames are fantastic ways to show off your photo collection without the need of a large heavy album.
While it may be difficult, be honest when assessing the value of your items. Does this item fit with your new living space/lifestyle? Is this item worth the time and expense of packing and moving? What is the comparable emotional value of two similar items?
Create a scale floor plan of your new living space to give you a concrete idea of how many things you can take.
Try a ceremony when parting with certain items. It will help you feel that they have been given the respect they deserve.
Think about consulting an objective third party. It can be helpful to get advice and assistance from someone who isn't attached to your things like you are.
At the end of the day you're not defined by your possessions, rather by the experiences and memories which they hold. It's those intangible things who make you who you are. So don't let your stuff get in the way of your exciting future!
Article Courtesy of Gordon's Estate Services, Reprinted with Permission from www.widowed.ca
Did you know? Heart Healthy Through Fitness
Exercise is one of the best ways to lower the risk of developing heart disease. Before making changes to a diet or adding exercise, always talk to your doctor first. Be sure to ask about medications, the ability to lift heavy objects and what exercises are safe for you.  Partner up and get active with a friend or family member, couple your new exercise regime with heart healthy eating. 
You can find great tips and recipes on www.heartandstroke.com 
Exercise can help circulation and strengthen the heart and cardiovascular system. It also lowers blood pressure, improves muscle tone and strength, boosts self-esteem and improves sleep.
Stretching exercises lengthen the muscles, preparing them for activity. It will reduce the chance of injury and muscle strain.
Aerobic or cardiovascular exercise strengthens the heart and lungs and will greatly improve the use of oxygen in the body.
Try to implement a walking program to start you off.  Look for a walking club at a senior's centre or mall near you.
An exercise session should last between 20 and 30 minutes to provide the best benefits for the body and over-all health. Exercise every day or every other day for the best results.
Take an important step to becoming healthier, more active and heart healthy.
Reprinted with Permission from www.widowed.ca
Joke or Quote of the Month: Compassion
"Compassion brings us to a stop, and for a moment we rise above ourselves."
 Mason Cooley