Music as Therapy…… Not Just for Alzheimer's
Seniors Tip: Making Moving a Stress Free Day for Seniors
Joke or Quote of the Month:Honesty
Heart Healthy Recipe:Italian Spinach Baked Eggs and Noodles
Did You Know? The History of Aging

Music as Therapy…… Not Just for Alzheimer's

Music as therapy has been around since Plato's days, but it really only took off as a science after the First World War, when musicians living near hospitals and convalescent homes were asked to play for recuperating veterans. Since then formal university programs have sprung up, and music therapists are now accredited by national or provincial professional associations.
The benefits of music therapy to Alzheimer's patients are very well known. Numerous studies have reported that an Alzheimer patient's musical memories are preserved even when the brain's function is impaired. Indeed, some formerly proficient musical patients are able to continue to play their chosen instrument in spite of losing their cognitive abilities to dementia.
Less well known is the effect of music therapy to treat bereavement, grief and severe depression. 
I'm told that Lean On Me by Bill Withers, Simon and Garfunkel's I Am A Rock, and the Beatles' Let It Be seem to be particularly popular.
But what exactly is it? The Canadian Association of Music Therapy defines it as: the skillful use of music and musical elements by an accredited music therapist to promote, maintain, and restore mental, physical, emotional, and spiritual health. Music has nonverbal, creative, structural, and emotional qualities. These are used in the therapeutic relationship to facilitate contact, interaction, self-awareness, learning, self-expression, communication, and personal development.
The immediate effects of music therapy on many Alzheimer's patients include reduction of restlessness, wandering and agitated behaviours. Music therapy also helps stimulate auto-biographical memories. For example, patients may recall events or people from when they first heard or danced to a particular tune.  Patients who are usually inanimate or unable to string three words together can be seen conducting an imaginary big band or be heard singing every word of their favourite song. One US rest home purchased iPods for all its residents and asked the families to create play-lists for their loved ones. The result: picture a dozen normally sedate residents all sat there with their headphones on, happily tapping feet, playing air-piano and singing along – they were completely transformed.
One senior remarked "It reminds me of my more nimble days. I'm a youngster again."
And the good news is that the joy for Alzheimer's patients keeps going after the music stops. That's often the best time for family to engage their loved one in conversation because the patient remains happy, bright and animated for many minutes after the headphones are removed.
Families can help too because friends and close relatives are more likely to know the kind of music grandpa likes, or the kind of music mom loved dancing to. It's not difficult nowadays to put together a play-list of their favourite music (just ask any teenager!). And it doesn't have to be an iPod – you can pick up an excellent MP3 player for under $40. However, note that most seniors find ear-buds quite uncomfortable, preferring instead the on-ear headphones.
When I talk to seniors and their families, it seems most people have two favourite music eras: their early-twenties, and the year or two before they were married. The music from those years usually evoke the best, most positive response.
So next time you visit a senior you're fond of, wherever they are, take the time to learn about the kind of music they liked back way-back-when. Then play it for them and wait for the smile to appear.
Article by Alex Handyside
Heart Healthy Recipe: Italian Spinach Baked Eggs and Noodles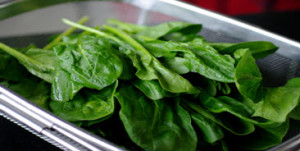 Cozy cooked eggs are a wonderful dinner for those fall evenings. A fragrant tomato sauce is the perfect way to add flavour and poach the eggs to enjoy over noodles. Leftovers also make a perfect thermos lunch the next day. Makes 4 servings.
Ingredients
2 tsp (10 mL) extra virgin olive oil
1 shallot, finely chopped
2 cloves garlic, minced
2 tsp (10 mL) dried oregano leaves
1/4 tsp (1 mL) hot pepper flakes
1 bottle (700 mL) passata (strained tomatoes)
1 pkg (5 oz/142 g) baby spinach, chopped
1 yellow or orange bell pepper, diced
4 eggs
1/4 tsp (1 mL) fresh ground pepper
3 tbsp (45 mL) fresh grated Parmesan
3 cups (750 mL) egg white broad pasta noodles
Directions
In a large ovenproof nonstick skillet, heat oil over medium heat and cook shallot, garlic, oregano and hot pepper flakes.
Stir in spinach and pepper; cook for 5 minutes or until wilted.
Crack eggs, one at a time into a small bowl and slip eggs into simmering sauce. Sprinkle with ground pepper. Place in preheated 400 F (200 C) oven for about 10 minutes or until eggs set or cooked to desired doneness.
Meanwhile, in a pot of boiling water, cook noodles for about 8 minutes or until tender but firm. Drain well and keep warm.
Sprinkle eggs with cheese and spoon with sauce over top of noodles to serve.
Nutritional Information Per Serving (1 of 4 servings)-Calories 370, Protein 20 g, Total Fat 10 g, Saturated Fat 3 g, Trans Fat 0 g, Cholesterol 220 mg, Carbohydrates 51 g, Fibre 6 g, Sugar 9 g, Added sugars 0 g, Sodium 540 mg, Potassium 350 mg. 
Recipe developed by Emily Richards, PH Ec. Reprinted with Permission from The ©Heart and Stroke Foundation.
Seniors Tip: Making Moving a Stress Free Day for Seniors
One of the most difficult challenges a widow or widower can face is deciding to move out of your longtime home and into a new living situation. Even if you embrace the move, it's important to recognize that there is going to be emotion and nostalgia on the actual day. 
With that in mind, you may want to consider whether you even want to be there on the day. Having a family member or caregiver present on your behalf provides support, comfort and ease with this transition. Whether present for the actual move, you should be involved in choosing which keepsakes stay and go. Planning is key, so start early with a simple colour coded system (green dots for sold or give away, red for keeping [within the family or one's new residence], and yellow for later consideration). This can help with the overwhelming stress of making all decisions at once, and may transform some of the experience into a positive, pleasant event.
Gifting and donating are good things to focus on as moving day approaches. 
Picking a slow day to move could save hundreds of dollars, and be applied to your new home. Add too, it makes for a more relaxed environment in moving. 
Have the movers pack all the breakables, as these are covered by their insurance, and let family pack books and non – breakable items. 
Moving is a seasonal business, so take advantage of rates. If winter can be managed, you'll save monies. If move in the summer, try and make your house closing on the15th of the month. Consider too the weekend: a less busy time for traffic and deadlines. 
In your new home, unpacking (by family and caregivers) should take place as promptly as possible, easing the transition along. 
Get at least three estimates for your move, and compare apples to apples, namely, the size of the truck, rates for packing and unpacking, cost for packing materials, additional services, insurance and payment terms. Lastly, consider personal referrals, the company's reputation or BBB/BNI record.
Article by Nadia Kalnieva, Reprinted with Permission from www.widowed.ca
Did you know? The History of Aging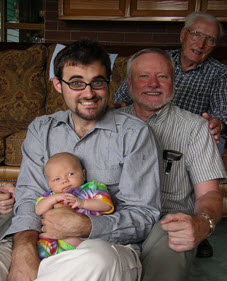 For 99% of human history the average life expectancy was under 18 years of age.
2/3 of all humans that have reached the age of 65 are alive today.
This time is called the "evolution of grandparents", as it marks the first time ever in human history that three generations have co‐existed.
Source: Caspari, R. "The Evolution of Grandparents." Scientific American. 2011 vol:305 iss:2 pg:44 ‐9.
Joke or Quote of the Month: Honesty
"Treat those who are good with goodness, and also treat those who are not good with goodness. Thus goodness is attained. Be honest to those who are honest, and be also honest to those who are not honest. Thus honesty is attained".
Lao Tzu