Heart to Heart
Seniors Tip: Twitching is Relaxing…Bird Therapy Benefits All
Joke or Quote of the Month:Be Greatful
Heart Healthy Recipe:Shrimp and Tomato Spinach Salad
Did You Know? What is Sarcopenia

Heart to Heart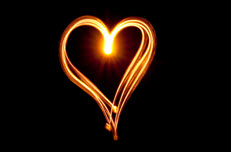 This story begins with a blueberry. At least, I blamed a blueberry. Just in the door from the market, I popped the biggest, bluest one into my mouth, unwashed. At that instant, like punishment for bad behavior, pain started in my jaw.
I rubbed my jaw and neck and complained to my husband, "That blueberry made my jaw hurt. Either it's the berry or I'm having a heart attack." It was meant to be funny, but we didn't have time to laugh.
The pain moved to my shoulders, then to my arms. I chewed an aspirin, and argued about whether we should call 911. I was adamant about not calling, as I tried to work through the pain. "Just give me a minute, it will go away."
My husband was not buying my argument, but we did wait a minute, maybe two. Then the nausea struck. My blood pressure registered 180/100. I was finally convinced. My husband drove me to an emergency room five minutes from our home.
As we entered, the receptionist snapped at us, "You should have called 911 long ago." She was right. Like me, many women argue and delay when they have symptoms. Delay can be lethal.
Their nurse administered my first shot of the day and called an ambulance. This was not GERD, or an errant fibrillation. My heart was screaming for oxygen.
More than 300,000 women suffer symptoms of heart attack every year. Because female heart symptoms often don't look like a male cardiac event, many of our heart attacks go undetected, until the heart is damaged or goes into arrest. Women are sometimes misdiagnosed, or they don't recognize their own peril until it's too late. For women, an attack often starts with pain in a shoulder, or jaw, travelling through the neck and arms. Pain is sometimes in the back rather than the chest. Women often complain of extreme fatigue just before or during a heart attack. Other symptoms are nausea and sweatiness. Chest pressure and pain, and shortness of breath are more universal signs of cardiac distress in both genders. Time is precious. Don't spend it unwisely.
A blood test by a health practitioner can detect enzymes released into the blood stream when heart cells die. Such tests can confirm the need for further diagnosis by a cardiologist and perhaps exploration of the heart by angiogram. If the heart has suffered damage, surgical remediation is available.
Women should be aware of our unique heart attack symptoms and carry aspirin at all times. And if you have indications of a cardiac event, don't delay. Fast action can save your life.
Article by Janet Richey, Reprinted with Permission from Senior Living Magazine, www.seniorlivingmag.com
Heart Healthy Recipe: Shrimp and Tomato Spinach Salad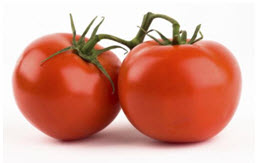 This colorful salad is perfect for a summer dinner on your deck or balcony. Buy a pound of shrimp on sale and divide the bag into four for quick meals all summer long. Makes 1 serving.
Ingredients-4 oz (125 g) large raw shrimp, peeled and deveined, 1/2 tsp (2 mL) Italian herb seasoning, 1/4 tsp (1 mL) chili powder, 1 small yellow or orange bell pepper, quartered, 1 cup (250 mL) baby spinach, 1 small tomato, sliced, 1/4 cup (50 mL) corn kernels (optional), 1 tbsp (15 mL) aged balsamic vinegar, 1 small clove garlic, minced, Pinch fresh ground pepper
Directions-In a bowl, spray shrimp lightly with cooking spray; toss with herb seasoning and chili powder. Place shrimp and pepper on preheated medium high grill and cook, turning once for about 6 minutes or until shrimp is cooked through and pepper is tender crisp. Arrange spinach, tomato and corn, if using onto a dinner plate and top with grilled pepper and shrimp. In a small bowl, whisk together vinegar, garlic and pepper and drizzle over salad to serve. 
Nutritional Information Per Serving – Calories 150, Protein 22 g, Total Fat 2 g, Saturated Fat 0 g, Cholesterol 180 mg, Carbohydrates 12 g, Fibre 3 g, Sodium 247 mg, Potassium 699 mg
Recipe developed by Emily Richards, PH Ec. ©Heart and Stroke Foundation 2014, Reprinted with Permission.
Seniors Tip: Twitching is Relaxing…Bird Therapy Benefits All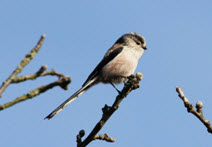 One small pleasure I allow myself is to watch the birds from my old armchair at the cottage (two pleasures if I include a bar of chocolate! But don't tell the missus). We have nuthatches and purple finches at the nyjer seed feeder, and juncos and mourning doves scrabbling around beneath. At the sunflower seed feeder there are chickadees and blue jays. We see downy and hairy woodpeckers at our popular suet feeder; hummingbirds sup their own liquid lunch; mallards and American Black Ducks prefer dried maize at the lake-shore; and loons and eagles can be seen going after fish. I can while away a few hours just gazing out the window at their antics. For me, it is time to relax and recharge ready for the busy week ahead.
Of course, like the school sandpit, it isn't always happiness and harmony. A crow or an eagle overhead can scare hundreds of songbirds in a flash.
The male mallards can be very territorial over food, allowing some in but denying others. And we regularly find post-fight tail-feathers on the lawn. Last summer we were lucky to have a pair of loons nest not ten yards from our shore, only for an eagle to later pounce on the sole unattended egg. Clearly our loons need a 'Parenting 101' review, but I guess it is all part of the great circle of life.
Last month I stumbled upon a book called 'Wounded Warriors: A Soldier's Story of Healing  through Birds', (Potomac Books, 2014) by Robert Vallieres, a US Gulf War veteran who discovered birds and birding as successful therapy for his traumatic brain injury. The book jumps around a lot, just as Robert's journey to healing did. He endured high peaks and deep troughs, joy and sadness, but the outcome was that birds and birding saved him from depression, and possibly worse.
I admit to having a list of ailments as long as your arm – and yes, hypochondria is first among them – but I don't think I suffer from depression. However, a close family member does, and she shares my view that bird watching can be very calming. She's not at all surprised to learn that twitching (as bird-watching is known) can have many positive effects. Indeed, we have friends who look forward to visits to the cottage just so they can feed the birds (and chipmunks!) by hand.
Granted, you will see more birds outside of any city, but even in the urban areas birds will find your feeders if they're refilled often and located in a safe place. Songbirds tend to prefer tiny nyjer seed, so those feeders have very small holes that jays and squirrels cannot access (squirrels actually dislike nyjer seed). We've tried all kinds of feeders over the years, but the best general feeder is a black metal one which is perforated with quarter-inch holes all over. Rugged because it is sometimes refilled twice a day with sunflower seed, it is very popular.
Drop hints with your relatives that you'd like a gift of a songbird/nyjer feeder – it will probably be the most successful. Later perhaps invest in a sunflower seed feeder. And then tell your friends and family you've developed a twitch you don't want to get rid of!
Article by Alex Handyside, CPCA
Did you know? What is Sarcopenia
Many people wonder if a particular experience they are having with their bodies falls into the category of 'normal' or if they should be alarmed by it. 
 It is good to know the difference. One normal but life-impacting age-related change that affects our musculoskeletal system (our muscle mass and strength) is known as Sarcopenia. 
 Sarcopenia is the process whereby our lean muscle mass is progressively replaced by fat as we age. Usually this is a subtle process that goes unnoticed by us as the areas of muscle loss are padded with extra fat. This gradual decline in muscle, however, results in decreased strength and functional ability. (Studies indicate that the loss of skeletal muscle for the average normally healthy person amounts to about 20% between about 30 and 70 years of age). Evidence of sarcopenia includes increased weakness and poor exercise tolerance. Decreased ligament and tendon strength as well as changes in stature and height reduction are also associated with this change. The most noticeable changes we will experience are an unstable gait, decrease in balance and changes in range of motion causing increased risk of falls.
Despite the fact that we may not run marathons anymore, regular (read: 'daily') physical activity to maintain current function is vital. A walk around the block or a swim in your local pool is both relaxing and restoring. Remember to take your pain medication if you need it to keep you moving!
Finally, be honest with yourself about the potential risks (any close calls you have had?) in your home and put in place the aids you may need for getting into and out of your bathtub or moving items that are stored in high cupboards to a more easy-to-access location. 
 An ounce of prevention …. 
Muscle-strengthening and muscle-building exercises can slow this problematic change. So, while sarcopenia may be classified as 'normal', there are ways you can care for your body and support it by slowing down the impact of this change. 
 To your health! 
Laurie Duke, RN, CPCA, www.gigaluma.com, Reprinted by Request
Joke or Quote of the Month: Be Greatful
"Let us be grateful to people who make us happy, they are the charming gardeners who make our souls blossom."
Marcel Proust