Talking to Parents about Their Eldercare Needs
Seniors Tip: Setting Up a Home Gym
Joke or Quote of the Month:Leadership
Heart Healthy Recipe:Broccoli Salad with Avocado Dressing
Did You Know? Who is the Best Person to be Executor of My Will?

Talking to Parents about Their Eldercare Needs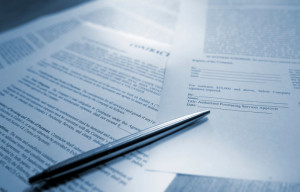 My mom turned 70 last month and she is a highly active and vibrant senior. As a gerontologist, however, this particular milestone alarms me for the same reason I cause alarm to my friends and clients when I spout off, "If your parents are 70 years and over, you need to start talking about future care options. Don't wait for a crisis, start now!"
If this seems premature or dramatic, consider this: over two-thirds of adult children haven't given a moment's thought about their aging parents and eldercare needs, let alone broached the topic in conversation.  
Looking back, I wish I had. Our family was caught completely off guard when our 69-year-old father had a massive stroke. My three siblings, Mom and I handled Dad's eldercare responsibilities while juggling family and work commitments.  And then the worst happened: Dad suffered a massive seizure. Three days later, with no signs of hope, our family had to make the excruciatingly painful decision to take Dad off life-support.
With Mom as a widow, we discovered our father didn't have a will, had cancelled insurance policies, had hidden debt and his small business had no exit strategy. Here are a few tips to consider as you initiate those sensitive discussions with your aging parents. Start Now! The first conversation is always the most difficult. Initiate a discussion now while they are still healthy and active. Emergencies rarely allow families the opportunity for full participation. You can start by asking the following questions:
Will they want or expect a lot of involvement from their children?
How do they feel about having a housekeeper or a private care provider coming into their home?
If at some point they are no longer able to live at home, what kind of living arrangements would they prefer?
What steps in the area of health care and financial planning have they taken?
Respect their decisions. It's important to treat your parents like the adults they are. There is one thing most experts agree on — imposing your way of thinking or trying to control your parent's decisions will yield undesirable results. Be patient and empathic. More than likely, it won't be easy for your parents to accept your involvement in their private affairs and life decisions. Their greatest fears are probably loss of independence and control. It's important the conversation aims at building trust and that you have a thorough understanding of your parents' preferences and needs.
Article by Wendy Johnstone. Reprinted with Permission from Senior Living Magazine, www.seniorlivingmag.com
Heart Healthy Recipe: Broccoli Salad with Avocado Dressing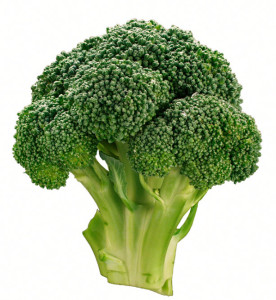 Crunchy broccoli and creamy avocado combine for a perfect summer salad. Almonds add a welcome crunch but you can easily skip them for nut allergies. Makes 7 servings.
Ingredients
1 head broccoli, about 1 lb/500g
1 red bell pepper, finely diced
1/4 cup (50 mL) finely chopped red onion
1/3 cup (75 mL) chopped fresh basil
3 cups (750 mL) mixed spring greens
2 tbsp (25 mL) slivered almonds, toasted
Dressing
1 ripe but firm avocado
1/4 cup (50 mL) sodium reduced vegetable broth
2 tbsp (25 mL) fresh lime juice
1 tbsp (15 mL) balsamic vinegar or fresh lime juice
1 clove garlic, minced
1/4 tsp (1 mL) fresh ground pepper
Directions-Cut stalks off of broccoli. Chop broccoli top into small bite size pieces and place in large bowl. Peel stalks and chop into bite size pieces; add to bowl. Add red pepper, onion and basil; toss together. Avocado Dressing: In another bowl, mash avocado until smooth. Stir in vegetable broth, lime juice, vinegar, garlic and pepper until smooth. Pour over broccoli mixture and toss to coat evenly.  Sprinkle greens over platter and spoon broccoli mixture over top. Sprinkle with almonds to serve.
Nutritional Information Per Serving–Calories 96, Protein 3 g, Total Fat 6 g, Saturated Fat 1 g, Cholesterol 0 mg, Carbohydrates 11 g, Fibre 5 g, Sodium 50 mg, Potassium 483 mg.
Recipe developed by Emily Richards, PH Ec. ©Heart and Stroke Foundation. Reprinted with permission from Heart and Stroke Foundation.
Seniors Tip: Setting Up a Home Gym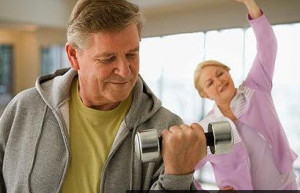 The convenience and privacy of a home gym offers a greater chance of sticking to your fitness promise. And if you are already an avid exerciser with a gym membership, home equipment allows a quick workout when you are just too time-strapped to hit the gym.
Before you start buying equipment, make a plan. First, you need to establish your goals. Are you exercising for weight loss, muscle strength, or increased flexibility? Are you a recreational exerciser or an athlete training to compete? All these goals require different types of equipment, and possibly room size.
Next, consider the space you have available for the gym. You'll need the right height, width and depth to accommodate your equipment, and your exercise form (you don't want to be swinging your arms into a wall!). A mirror to check your technique is also a good idea. Flooring isn't a big issue unless you are frequently jumping on it – or you worry about dropping weights onto expensive hardwood.
If that's the case, a cork floor will absorb the shock on your joints and avoid any floor dents. Interlocking rubber tiles may also work. These can also be placed under heavy or larger exercise equipment (treadmills, etc.). Proper ventilation is also an important consideration for the room: install ceiling fans or set a large portable fan by an open window.
If you plan to have mechanical cardio equipment (like a treadmill, rowing machine or stair climber) measure the equipment to ensure it will fit into the available space. Draft a rough floor plan. Upright stationary exercise bikes take up less space. Rebounders (mini-trampolines), skipping ropes or bench stepping are other less expensive "cardio" options, but be sure you have sufficient ceiling height.
If your fitness goals include strength training, you can choose free weights and a bench. These are compact and inexpensive. Your own body weight can also be used for many exercises and there are specially designed machines that take up little room, using your bodyweight as resistance. Machines, also called weight stack systems, may or may not take up lots of room (depending on the design), so you'll have to do some research. Machines are much more expensive than free weights.
Think about accessories too: weight training gloves, if you are using free weights, proper footwear to use on the treadmill (suitable for either walking or running). Resistance bands or exercise elastics work for a variety of exercises. Stretching mats (or yoga mats) and foam rollers assist with various flexibility (stretching) exercises. And don't forget storage ideas to conceal the smaller exercise items, like large baskets or ottomans that also serve as storage units.
Another cost consideration, especially if you aren't knowledgeable about exercise, is hiring a Certified Personal Trainer. One session may be all you need to learn how to use your equipment properly and design a routine to help you achieve your goals. You can also consult the trainer before you begin setting up your gym, to be sure you choose the right equipment for your needs.
Article by Eve Lees. Reprinted with Permission from Senior Living Magazine, www.seniorlivingmag.com
Did you know? Who is the Best Person to be Executor of My Will?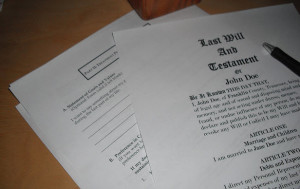 Your Will is an essential part of your estate plan.  Everyone who has accumulated assets in their lifetime should have a Will.  You should visit a lawyer or notary to make or update your Will.  Before you visit your legal advisor you will need to make a list of your assets, choose your Executor (or Executrix) and choose a guardian if you have young children.
You need to choose an Executor that you trust to carry out the terms and conditions of the Will.  They do not necessarily need to possess particular legal or financial expertise but it is an important responsibility that can take time and effort and be quite complex depending on the details of the estate.
Many people choose a family member or friend to be their Executor.  Legally the person needs to be of sound mind and over the age of 18.  You may choose to appoint a lawyer, accountant or trust company as your Executor in order not to burden family or friends. It should be someone you think will outlive you. The Executor will be the person who must settle your affairs.  This involves gathering together all your assets, pay all debts owing, dispose of your assets (house, personal belongings, investment portfolio etc.) and then distribute the remainder of the estate according to the instructions in the Will.  If charitable bequests have been made, tax receipts will be required for income tax filing. It can be a lengthy process. 
There are other considerations when choosing an executor.  You should inform the person that you wish them to be the executor and make sure they are willing to accept the responsibility.  If they agree, you should discuss your wishes with them.  It is preferable to choose an alternate Executor or Co-Executor in case your first choice is unable to perform the duties at the time of your passing.  We also recommended that you inform family members who you have chosen as your Executor so that it does not come as a surprise and they know who to contact at time of death.
Being an Executor takes time, energy and attention to detail.  While your executor can seek professional assistance and charge these fees back to the estate, they are the one who is legally responsible.  It is an important role that requires a commitment to carrying out your final wishes.
Article by BC Children's Hospital Foundation. Reprinted with Permission From Senior Living Magazine, www.seniorlivingmag.com
Joke or Quote of the Month: Leadership
"If your actions inspire others to dream more, learn more, do more and become more, you are a leader."
John Quincy Adams